Freedom251 is the Indian smartphone brand owned by Ringing Bells Pvt. Ltd. Freedom251 – the cheapest and most affordable Smartphone at a price of just Rs 251/- [ Under $4 only].
Recently company has created a huge buzz inside India and across WorldWide by launching Freedom251 on Wednesday 17th Feb, 2016 which made available to buy online on 18th Feb, 2016 early morning 6 am from their website.
It's one of the product developed and promoted under "Make in India" initiative program and had receive full support from Government of India. While the Vision & Mission behind Freedom251 due to which it came into existence is great.
This product has been launched with so many promises and the price cab of Rs 251/- from Ringing Bells which really rings in some sort of next to impossible thoughts, even the mobile industry body ICA [Indian Cellular Association] has raised concerns and reviewing Mobile Industry views it seems Ringing Bells is not going to live upto expectations [Source: The Financial Express]
I am not going to dive into Freedom251 Smartphone Specs, Features and all goodness which it brings [You can learn everything about Freedom251 by visiting their official website here http://freedom251.com/]
100% chances are you weren't able to book Freedom251 online today as I too have been trying since morning and finally I gave up, but even after if you have any plan's to BUY Freedom251 considering price of Rs 251/- where even if you need to recharge your prepaid mobile internet 3G data of 1GB costs around Rs 200/- and more and how could you can buy a smartphone under this price. Give a thought, well something here to read before you buy this smartphone –
http://techlomedia.in/2016/02/5-reasons-why-you-should-not-book-freedom-251-smartphone-36737/
Being from Digital Marketing industry I see a lot of flaw's which we can learn from Ringing Bells failed initiative in converting all these positive sentiments which could have taken it to far better level if they had considered even the basic Digital Marketing elements taken care before product launch.
If you are an Business or Brand  you can learn a lot from Ringing Bells product pre-launch and marketing in-lights of Digital Marketing and online branding of products.
1. If your product is able to receive such an enormous buzz raving up from online and offline market, you must have prepared in advance for additional servers to receive great hits to your website. What it leads to very poor and bad online Customer Experience.

This is the official tweet posted by ringing bells just after 9 minutes when the Freedom21 booking made available online [https://twitter.com/RingingB/status/700140143554891776] while many shares the website crashed at 05:50 am even before booking made available online.
What all such for Online Users leave behind is all negative experience. The customers and fans who where their product advocates has turned out into vilians. Over social media you can watch all such funny hashtags [ #Freedom251 #RingingBells ] laughing and mocking over Ringing bells Freedom251 smartphone.
Few of funny Twitter reactions about Freedom251 – Enjoy!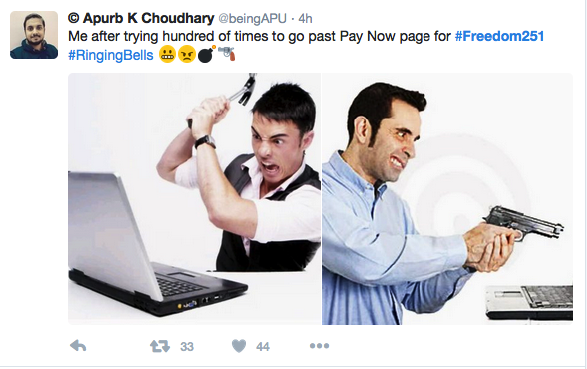 The ULTIMATE one which made me laughed so hard and continuing…

Do share what you feel/thought and your booking experience about Freedom251 in comment box below.
Afzal Khan is an Internationally known Digital Marketing Consultant & Certified SEO Expert from Bhopal, India offering Search Engine Optimization [SEO], Local SEO, E-commerce SEO, SEM [Paid Marketing: Google Adwords, Facebook Business], Social Media, Website Design & Web Development & 365 Degree Digital Marketing services to Small, Medium & Large size business.
AfzalKhan.Org also provides on-going regular SEO training, Social Media & Digital Marketing Training to Corporate Employees, College Students & Individual Professionals who want to build their career in Digital Marketing Industry. Get in touch with Afzal Khan today!