Dear Mr. Amar Sontakke – So Called SEO Professional from Pune, India
An Open Letter to Mr. Amar Sontakke "So Called" SEO Professional a Content Scrapper from Pune, India with just 9-10 months SEO experience with no existence or evidence of his SEO work ever before 2010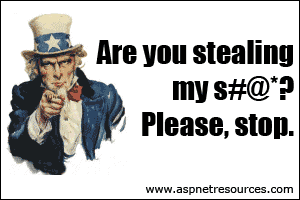 This article is not all by any means intend to hurt any individual's sentiments or discourage them morally, personally or professionally. I thought it would be worth sharing because many of you have also faced such situation in your professional life where some anonymous person has stolen, scrapped or copied (basically Content Theives) your work or taken credit to work/content which you Originally Own.
Image Source: Photobuck
For the first time I am writing some offbeat blog article, it's my request to all of my reader's to hold your breath and read this classic article till end! You must be wondering why I decided to blog about such a small issue which is not a small one instead we need to spread and educate people not to get involved in Content Scraping.
I don't wanted to waste my own and my reader's time, but since I knew there are many Online Marketer & SEO Professionals across the country who religiously follow and read my blog, it will be worth sharing my latest experience with you all. I have been victim of such nuisance many time's before where people steal, copy, scrap my resume,  my work and showed to world as they own it (I knew how to deal with all such Content Scrapper's & Content Theives).
Read Entire Article Dear Mr. Amar Sontakke – So Called SEO Professional from Pune, India
Afzal Khan is an Internationally known Digital Marketing Consultant & Certified SEO Expert from Bhopal, India offering Search Engine Optimization [SEO], Local SEO, E-commerce SEO, SEM [Paid Marketing: Google Adwords, Facebook Business], Social Media, Website Design & Web Development & 365 Degree Digital Marketing services to Small, Medium & Large size business.
AfzalKhan.Org also provides on-going regular SEO training, Social Media & Digital Marketing Training to Corporate Employees, College Students & Individual Professionals who want to build their career in Digital Marketing Industry. Get in touch with Afzal Khan today!